Finally we have started production on our own line of Bobble Heads.
We will be starting with Her Majesty The Queen in Bobble Head form.
Prototyping is under way with a view to making a limited run of the Bobble Head for promotional purposes.
This Bobble Head will not be available anywhere else in the world and will be a limited edition of x number.
You can pre-order your Queen Bobble Head anytime you are ready.
The queen will eventually have a likeness of the Madam Tussauds Diamond Jubilee waxwork model (seen below)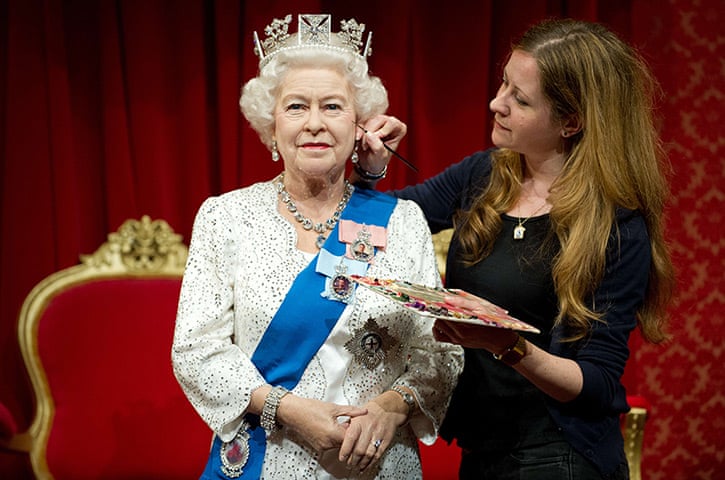 Stage 1 : Select images of what you are looking to create.
Obviously one of the most important stages, you have to decide what it is you want, if you are designing a custom bobble head from scratch you can choose the pose and the clothes the custom bobble head is wearing.
Stage 2 : Proofing
Initially some proofs are created of the prototype model, These may be spot on and require no changes alternatively you may wish to make changes to the model's design at this stage.
Below you can see our original prototypes for the Queen Bobble Head
The above proofs are ok for a start but we want the queen bobble head to be looking more regal and refund.
With our second proofing run we asked the artists to put jewellery on the hands and and add a bit more to the costume. As you can see in the next set of proofs the dress features have been expanded and the medals have been added to the ribbon. Now our Queen Bobble Head is starting to look regal.
Below we get our 1st proof of the Queens head, note the crown needed changing as it could not be moulded as it was on the image due to the fragility of it. We have replaced this with a more solid crown.
Our 1st Colour images appear, as you can see Her Majesty is starting to look rather cool.
We have requested a few changes to her hair as she is a bit white on top, we think grey / silver would look better.